SmartGraft® FUE Hair Transplant
Get natural, permanent results that make you look and feel younger.

Get natural, permanent results that make you look and feel younger.
Hair loss affects men and women, both young and old. Now you can replace it quickly and discreetly using your own hair, with the precision of the SmartGraft® procedure, in less time than many other FUE methods.
Get smart about hair loss
Prior to SmartGraft®, hair restoration procedures could require surgery, leaving a large linear scar across the back of the head. Recovery time was slow and very uncomfortable.
SmartGraft is a smart option for both men and women searching for a permanent solution to hair loss. SmartGraft uses a combination of precision craftsmanship and state-of-the-art technology rather than a scalpel.
The procedure can be done with more precision in less time than many other FUE methods. Patients can go back to work in one or two days, and results look and feel completely natural. Instructions on what to do to get prepared for the day of the procedure will be given to you.
Why SmartGraft?
SmartGraft uses FUE (follicular unit extraction) technology which can be one simple solution for hair loss in both men and women. The SmartGraft system was developed by a leading team of physicians, medical scientists, and engineers who understood the importance of helping to assist physicians with their FUE surgeries to give patients an alternative to the visible linear scarring that occurs with the traditional strip method.
SmartGraft uses a less intrusive method to restore hair loss than the strip method. Through a process known as "fue hair restoration," SmartGraft uses your own hair to produce the most natural results. The procedure is completed in-office, during a single visit, which means less discomfort and less recovery. And the best part? SmartGraft produces permanent results.
SmartGraft Benefits
FUE with SmartGraft poses countless benefits over the older strip method of hair restoration, so it is no wonder that many patients are asking for SmartGraft. Among the benefits of a SmartGraft procedure are:
A completely natural look. Because your own hair is used to fill in balding spots, the results produce the most natural, healthy look possible.
Minimal scarring. Unlike other traditional procedures which require large strips of hair to be removed and restored, SmartGraft uses individual micro grafts to eliminate linear scar.
A single, in-office procedure. The procedure is performed in the doctor's office and typically lasts about five hours.
Almost no downtime. Recovery is short and patients are typically washing their hair within a few days.
How Does SmartGraft Work?
Hair loss can occur for any number of reasons such as genetics, certain medications and diseases, and irreversible damage from excessive tension over time. No matter the root of the problem, hair loss is something that both men and women of all ages and races experience. SmartGraft is an FUE hair restoration device available to patients who are tired of being self-conscious about their hair and are ready to make a positive change to their appearance. It is the smartest, more effective way to fight hair loss that provides permanent, noticeable results.
SmartGraft's fue hair restoration device works on a microscopic level, extracting between one to four hair follicles at a time from a region of the head that has healthy hair and "bald resistant", most typically from the back of the head. Your doctor will then implant these micro hair grafts into the targeted regions, producing the most natural, healthy results. And, because the grafts work on such a small level, there is no noticeable linear scarring like with other transplantation methods.
Why is SmartGraft the Great Choice?
The reason SmartGraft is a great choice is because of the results it produces. Visible changes happen quickly and you may first start to notice hair growth as soon as the first three months after your procedure. Your hair will grow back in phases, and full growth will be realized within one year.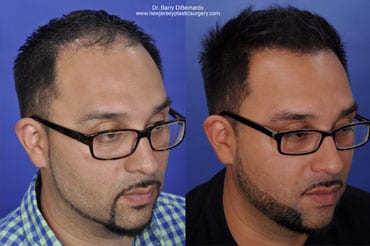 The SmartGraft Experience
When researching hair restoration procedures, it's important to understand how the SmartGraft procedure works, what to plan for ahead of time, what to expect during the procedure, and when you will see results.
The first step is an initial consultation with a trained hair restoration expert. We will ask about your medical history and perform a scalp evaluation before outlining a recommended strategic plan. He or she will explain the procedure in detail and determine the number of grafts needed for an effective and natural-looking result specific to your goals.
Instructions on what to do to get prepared for the day of the procedure will be given to you. Typically, we will start the procedure early in the morning. You will want to wear comfortable clothes and bring your favorite music and/or videos to keep you occupied (with small ear buds). Your shirt or blouse will be replaced with a surgical gown.
The Actual Procedure
Upon arrival you will be escorted to a private room where the procedure will take place. Once you are seated and comfortable, your technician will explain each step of the procedure once more and get your approval before starting.
In most cases a mild sedative can be given to help you relax. You will need to consult with your physician to see if this is an option and make arrangements for transportation home. Next, someone will shave a small area at the back of your head. You do not have to get a buzz cut. Depending on the length of your hair, an area can be shaved in small sections to allow you to hide the donor area after the procedure.
The area where the hair is to be implanted will be prepped and local anesthetic will be applied to numb the area. While your scalp is anesthetized, the SmartGraft device is used to gently remove the grafts from the donor area. SmartGraft allows immediately collect, sort, count and store each graft in a temperature controlled and hydrated environment prior to implantation. This promotes graft survival and improves their ability to regrow for better results.
After all grafts have been collected, the implantation site is prepped and local anesthetic is applied. The technician will carefully and strategically create tiny openings for the grafts to be implanted. This part of the procedure is very important as the angle, density and placement of each graft will determine how natural-looking the results will be.
After the Procedure
The average SmartGraft hair transplant procedure may take five or more hours from start to finish, while some procedures may take less. This depends, in part, on the number of grafts required to achieve desired results. All patients are advised to make arrangements for someone to take them home safely, but this is required if a mild sedative is used during the procedure.
Your physician will give you comprehensive instructions on what to expect in the coming weeks and how to care for your newly transplanted hair. Most physicians recommend that you shampoo the day after the procedure using a "cup wash" method which will be explained to you.
Most patients can return to work the following day and resume full activity, including their fitness and sports regimen, within a few short days. In most cases, evidence of the transplant goes undetected by others until months later when they notice your fuller, natural looking head of hair.
Your New Hair Experience
Newly transplanted hair grows naturally in several phases. During the first several weeks your hair will take root and then begin to shed. This is perfectly normal. You will see new hair in about three months, followed by a noticeable improvement in six months and full growth at 9 to 12 months. Once your new hair has grown in, you will be able to care for it just like when you had it the first time!
Smart Graft®
All content on this page is provided by SmartGraft.